A Little About "The Dobro Man"
Carl Henry in 1990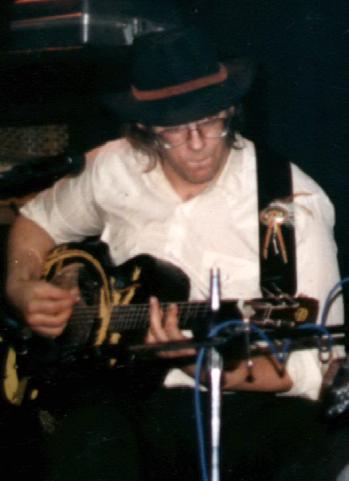 For the newest news, I am very happy to say I have teamed up with a partner of sorts for some engagements in the Detroit area! Larry Everhart and I have been friends for quite sometime, and let me tell you he is one of the premier harp players in the entire area! I am very happy with this association, and hope we do many many gigs together, I know you'll enjoy his playing.(Not to mention me yellin' "blow man blow"!)
I would be very remiss indeed if I didn't take a moment to name a few of my many friends here that have shown me great kindness, and help along the road of the blues. My thanks go out to Robert Jones (Host of WDET-FM's "Blues From The Lowlands") Who ever since our playing days together at the Soup Kitchen Saloon in Detroit, has been a mentor, and allowed me graciously to appear on his radio proram. Also to The Famous Coachman (whose late saturday night blues gave me my first exposure to Elmore James). And as well to my perfoming friends The Butler Twins (Curtis&Clarence),"Uncle" Jesse White, Johnny "Yard Dog" Jones, Don McEntyre, Bob Codish, Billy Parker, Steve Gilbert, and many many others too numerous to mention here.To all of you my sincerest thanks for your support!
I would indeed be very remiss if I didnt acknowledge the support of two of my favorite people, Bill and Kathy McGettigan, who have been Larry and my staunchest supporters, and biggest fans. Bill and Kathy co-produce "Krystal's Motor Town Cafe" a award winning blues show on Dearborn's local cable tv station. Without true staunch supporters of local music, most assuredly the Detroit scene would not be as rich as it is today. Period.
My greatest influences in the blues make up what I consider to be my "style", and they are many and varied, as you may guess...Johnny Winter, Muddy Waters, Lonnie Johnson, Memphis Slim, Roosevelt Sykes, Otis Spann, Robert Johnson, Lightnin Hopkins, John Lee Hooker, and so very many others make up the list. Also, the lessons that I learned playing with some of the local Detroit greats, like the late Mr. Bo, "Uncle" Jesse White, Robert Jones, Buddy Folks (the incredible one man band), and many others are so invaluable to a young man trying to learn how to put more of his own feelings into music.
I have had the priveledge of meeting so many of the greats..such as John Lee Hooker, Willie Dixon, not to mention our local greats that were kind enough to tell a aspiring muscician there thoughts and feelings on the blues. To put it shortly... I would not trade that expierience for anything in the world.
I play a "round" neck Dobro...to use for finger work as well as slide, and hopefully you'll check out my soundspage... so all of you can hear my work. I am currently seeking studio time, to hopefully get out what will be my first cd....a labor of love to be certain!