A Special thanks...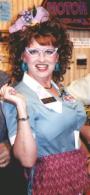 This little page cant do enough to thank the very special friends I have at the group from Krystal's Motor Town Cafe, but indeed it is...a effort. To Krystal (ya cutie pie), and especially to Bill and Kathy McGettigan, My fondest thanks and appreciation for all you have done for me. Bill and Kathy are the kind of folks who stay behind the scenes mostly, although Bill is a great performer in his own right.

They help and encourage local Detroit area musicians, and are the driving force behind Krystal's Motor Town Cafe, a cable show on Comcast's Dearborn local network....a award winning show that in my opinion is very deserving of nationwide viewing. From scheduling me for a appearance there on the show, as well as having my partner Larry Everhart and I appear at Dearborn's Motortown Music Festival,(a event sadly I couldnt do very much for except be there for moral support, as I was injured the week before) I would like to express a few things here.

First my total support for them, the show, and any endeavour they attempt....but also to let them know that all through my injury, and times when I never really knew if indeed I could play again...I knew that I had friends out there rooting for me, always in my corner...For that my friends...I will be eternally greatful...and the old elephant never forgets *smile*. I urge all visitors to the website here, to pay Krystal, Mad Dog, Leopold, and all the other fine folks at Krystal's a visit...tell em Carl Henry sent ya!!
Krystal's Motor Town Cafe